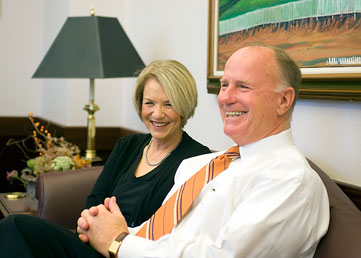 Join us. Friends and alumni from the area will join faculty, staff and students on Wednesday, April 21st in the center of campus to say farewell and thank you for your service to retiring president James F. Gaertner and spouse Nancy.
President Gaertner officially retires Aug. 31 but "this will be the last opportunity for graduating seniors and many others who may not be in the area in August to shake their hands and wish them well. We're inviting all faculty, staff and students to join us, and also friends and alumni in Huntsville and beyond," said Maggie Collum, Director of University Events.
The celebration will be in Bearkat Plaza from 3-5 in the afternoon.
"The Gaertners have made a lot of friends in the community over the last nine years," Collum said. "We want as many people as possible to have the opportunity to wish them well."
Collum said the celebration should be "lively and festive."
"We'll have music, entertainment, food and refreshments, and a very brief program. The primary purpose is to give the campus, the community and the Gaertners the chance to say farewell and mutual best wishes."
Free parking and a shuttle service will be available from the lots east of Johnson Coliseum.
President Gaertner, himself a graduate of Sam Houston State, became the 12th president in the university's 130-year history in 2001.
For those who are unable to attend or otherwise extend farewell wishes, the university has created a website: www.shsu.edu/~pre_www/comments.
For more information, call University Events at 936.294.3415 or e-mail events@shsu.edu.