Freshman Learning Communities
The Sam Houston State University Freshman Learning Communities (FLC) are an educational experience designed to help students stay in school and to foster their intellectual development through interactions with fellow students, faculty and staff.
Goals of the Freshman Learning Communities:
Ease the high school to college transition by promoting strategies for academic success;
Increase students' attachment to the university and academic departments;
Promote students' intellectual and social growth.
Why Should I Join a Freshman Learning Community?
Make friends quickly;
Establish convenient study groups;
Increase your chances of having the best GPA possible;
Build a strong academic and social support network.
FIND THE FRESHMAN LEARNING COMMUNITY THAT'S BEST FOR YOU
Academic Interests
---
These learning communities are tied to a specific department or major, which gives you the opportunity to establish relationships with faculty and staff in your department right away, start completing your major requirements, and take part in activities related to your major.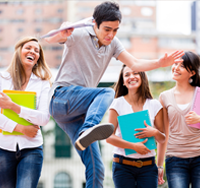 General Interests
---
Being a part of one of these general interest learning communities gives you an opportunity to explore your interests and strengths, complete core requirements with a community of your peers, and engage in activities that introduce you to all that SHSU has to offer.
Bearkat Living-Learning Community
---
The Bearkat Learning Community is our only residential learning community. Members of the community live together in Raven Village, take two to three core classes together each semester, enroll in Study Skills, and plan and participate in social events throughout the year.