"I had moved from Washington State and I did not know a single person. Through this program I was able to have a comfort that I would always know who my classmates were. Though we have all gone into our separate majors I know that it is because of this amazing program that we were able to grow friendships, fond memories, and find ourselves that first year." --Lauren, '14, English
Career Exploration
The Career Exploration Freshman Learning Community is ideal for students looking to explore different majors and career opportunities. In addition to taking core requirements, students also take UNIV 1301, Introduction to Collegiate Studies. In this course, students embark on a process of self-discovery so that they can quickly and efficiently choose a major that is right for them. Students also learn how to market themselves and their talents so that they can better take advantage of academic and professional opportunities.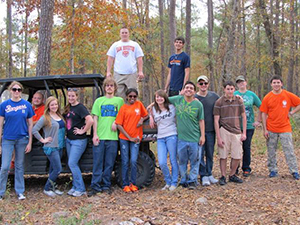 Members of the Career Exploration Cohort during University Clean-Up Day, Fall 2012
2013-2014 Courses
Fall Courses
CRN: 82083 ENGL 1301.74: Composition & Rhetoric I
CRN: 80104 HIST 1301.03: United States History to 1876
CRN: 82456 UNIV 1301.74: Introduction to Collegiate Studies

Spring Courses
ENGL 1302: Composition & Rhetoric II
HIST 1302: United States History Since 1876
PSYC 1301: Introduction to Psychology
Already accepted to a Learning Community? Plan your schedule now.